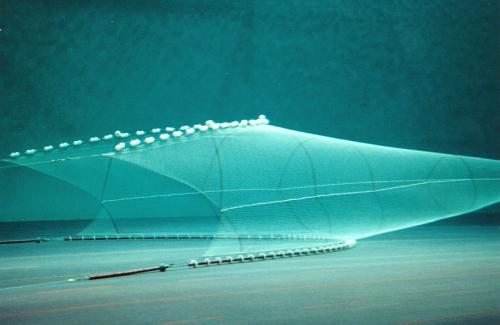 English
Crimond Enterprises designs and constructs trawls and seines for all types of mobile fishing, and for harvesting a variety of demersal and pelagic species.
All trawls are precision designed and manufactured to the highest standard, using the finest quality materials which are sourced worldwide.
Extensive use is made of Flume Tank facilities in the initial design stage, culminating with full scale commercial evaluation at sea with net monitoring equipment and underwater cameras.
Crimond also markets specialized electronic fishing equipment including:
Electronic Navigation Plotters
---
Balloon Demersal Trawls
Single Boat 150 H.P. to 5,000 H.P.

\

Pair Trawls 2 x 200 H.P. to 2 x 1,100 H.P.
Crimond Enterprises' Balloon Trawls are a product of computer aided, three dimensional design techniques. The 2 seam design allows for a variety of mesh sizes in the wings and square to eliminate drag. The trawls are constructed of high grade, heat stretched, Polyethylene netting. The netting is hung on combination wire rope, the Headline is hung on Polyester guard and the Fishing Line is hung with heavy guard netting and then wrapped with braided rope to protect the hanging meshes. The trawl has simple design features, which simplify repairs, it can also be used in a single or pair trawl mode.
Flotation is normally 8 inch heavy duty floats, and the groundgear is normally Rockhopper type, the size of discs depending on the horsepower of the vessel and the grounds to be fished.
The trawl is normally used to fish the following species: Cod, Haddock, Pollack, Hake, Flounder, etc. and is used on medium to hard ground by a variety of vessels with different horsepower.
Before a trawl is constructed Crimond Enterprises requires certain parameters from the customer, which are then generated through a database to determine the trawl size and door size to suit the particular vessel.
As with other Crimond Enterprises trawls scale models are usually tested in a Flume Tank and these results are verified by commercial testing at sea with full scale gear using Electronic Gear Monitoring Systems.
Trawl Sizes (Trawl Circumference)
| | | | | |
| --- | --- | --- | --- | --- |
|   | TW. Size | Headline (Ft.) | Footrope (Ft.) | T.S.A. |
| 192 x 15 cm Mesh | 2.5 mm | 54 | 68 | 11.2 |
| 212 x 15 cm Mesh | 2.5 mm | 64 | 85 | 14.5 |
| 250 x 15 cm Mesh | 2.5 mm | 74 | 92 | 17.2 |
| 270 x 15 cm Mesh | 2.5 mm | 75 | 93 | 19.1 |
| 294 x 15 cm Mesh | 2.5 mm | 81 | 99 | 22.2 |
| 318 x 15 cm Mesh | 3 mm | 93 | 111 | 29.3 |
| 368 x 15 cm Mesh | 3 mm | 105 | 133 | 42.2 |
| 438 x 15 cm Mesh | 3.5 mm | 133 | 160 | 60.4 |
| 592 x 15 cm Mesh | 3 mm | 156 | 182 | 104.5 |
| Pair Trawl |   |   |   |   |
| 740 x 15 cm Mesh | 3 mm | 250 | 276 | 194 |
| Flounder Trawl |   |   |   |   |
| 228 Flounder | 2.5 mm | 89 | 89 | 13.5 |
| 328 Flounder | 3 mm | 88 | 117 | 36.6 |